In 2012, Habitat Restoration Sciences (HRS) constructed the first phase of restoration at Cold Creek located on California State Parks (CSP) land near Donner Memorial State Park.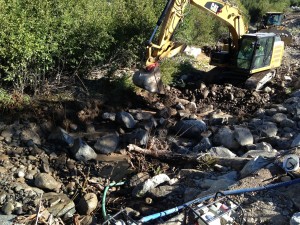 The goals were to improve riparian habitat and reduce erosion impairing the water quality of the creek feeding into the Truckee River.
Cold Creek had incised due to gravel mining and channelization. It was continuing to erode with little riparian habitat, according to CSP geomorphologist Cyndie Walck,  who supervised the project to excavate more than 13,000 yards of material and construct a new floodplain.  The project was done under contract with the Truckee River Watershed Council (TRWC) that coordinates, funds, and implements restoration projects in the region's watershed.
Read more on Dudek's blog.