Leadership Backup
Strong leadership combines restoration expertise with effective communication for both clients and staff. Meet our leadership team.
Frank Dudek, PE
Chairman of the Board/CEO
At Dudek, we want to build good relationships, effective collaborations, and successful projects; that is, we want happy, satisfied clients and staff.
Complying with today's complex and interdependent regulatory laws is difficult and frustrating. To get projects approved and built requires an experienced professional team that understands each client's needs and goals, and those of the regulatory community. The Dudek team carefully listens to and collaborates with our clients, public officials and regulators, and often the public to achieve successful results. It requires knowledge, energy, patience, responsiveness and technical know-how.
Founded in California in 1980, we have accumulated and honed our professional skills in one of the world's largest and most stringent regulatory environments. Expanding now in the western United States, we repeatedly apply those skills to help our clients manage, repair, restore, build, maintain, and operate their infrastructure and natural resources.
We understand concerned citizenry, environmental goals and constraints, overlapping political jurisdictions, and unique technical and regulatory challenges. Our team will make your job easier and your project a success.
Thank you all for your continued and growing support.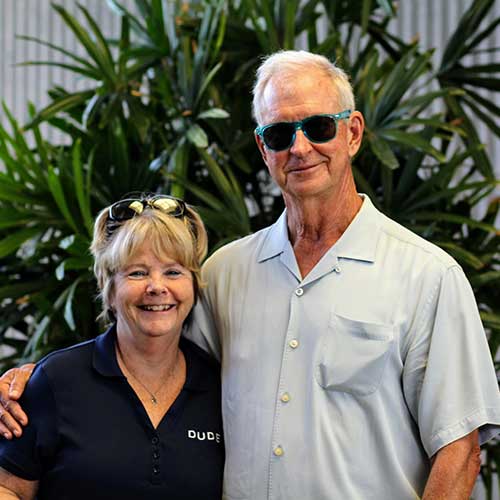 YEARS WITH DUDEK
37
YEARS IN INDUSTRY
42
FOCUS
Client Satisfaction
Strategy
Firm Culture
Financial Performance
EDUCATION
Oregon State University
MS, Civil Engineering
University of Nebraska
BS, Civil Engineering
LICENSES
Professional Civil Engineer in California and Arizona
FAVORITE QUOTE
"A smart man or woman learns from his or her mistakes; a wise person learns from others' mistakes." -Anonymous
Joe Monaco, AICP
President
We find solutions for our clients that are scientifically sound, legally compliant, and practical in implementation. And, we equip and empower our project managers to find a clear path in the face of regulatory challenges. That focus is in line with our passion to deliver results, and to make our clients successful.
One thing that attracted me to a career in environmental planning was a fascination with the interplay between science and policy. Where the objective of science is discovery, the outcome of policy needs to be a decision. We Americans have a proud tradition of balancing economic and technological progress and growth with a cautious consideration of the consequences of that growth.
I am fortunate to be part of a team of experts that understands such a balance, and more importantly, understands how environmental laws and regulations are developed, interpreted, and applied.
YEARS WITH DUDEK
18
YEARS IN INDUSTRY
30
FOCUS
Client Satisfaction
Environmental Planning, Permitting, and Compliance
Business Development
EDUCATION
San Diego State University
MCP, City Planning
University of California, Los Angeles
BA, Geography
CERTIFICATION
American Institute of Certified Planners (AICP)
FAVORITE QUOTE
"Nobody cares how much you know until they know how much you care" -Theodore Roosevelt
Eric Wilson, LEED AP
Vice President, Environmental Services
Exploring, innovating, and questioning have always come naturally to me. I am a problem solver and I love science. I find that building relationships, seeking common ground, and celebrating success have honed my entrepreneurial spirit as well as my desire to build better communities. No wonder it is so easy, every morning, to come work at Dudek, a place that shares and reinforces my values.
We have a saying at Dudek – "more isn't better, better is better!" This applies to more than our day-to-day work. It speaks to how we are structured, how we conduct business, and how we interact with our clients. As a result:
You'll enjoy working with our team – we only hire employees that align with our culture of providing high-value service with a positive attitude. I'm always amazed what people can accomplish when you allow them to focus on what they do best, provide them with the tools they need to be successful, and get out of their way!
You won't find unnecessary bureaucratic layers at Dudek – we value operational efficiency, transparency, and individual accountability, eliminating the need for middle managers and wasteful processes. As an employee-owned firm, we are all invested in our client's success.
You'll always get knowledgeable, responsive, and practical solutions – we emphasize the importance of rigorous analysis in successful problem solving and understand that accurately defining a problem is the crucial foundation to solving it.
YEARS WITH DUDEK
5
YEARS IN INDUSTRY
22
FOCUS
Client Satisfaction
Defining and Solving Problems
Improving Communities
Innovating
EDUCATION
Claremont McKenna College
BA, Environment, Economics
CERTIFICATIONS
Leadership in Energy and Environmental Design Accredited Professional
FAVORITE QUOTE
"The time is always right to do what is right." – Martin Luther King Jr.
Bob Ohlund, PE
Vice President, Engineering Services
Problems are my passion. Whether figuring out how to design a treatment system that is both robust and economical, or how to balance staffing to assure that we will be responsive and meet our deadlines, while providing a high quality work product, I embrace the opportunity to solve problems.
We provide exceptional engineering service; we are also a business, and I love the challenges that presents. Whereas engineering may appear to be two dimensional, a business has three dimensions. People are the third dimension. Ronald Reagan was known to surround himself with the best people possible, and I've been blessed to work for the best clients along with exceptional fellow Dudekians.
Trust, persistence, and laughter––that's my 'secret sauce' of being successful. Email me your secret sauce for success. I'd enjoy hearing from you.
YEARS WITH DUDEK
9
YEARS IN INDUSTRY
34
FOCUS
Client Satisfaction
Water Resources
Public Infrastructure
People
EDUCATION
University of Southern California
BS, Civil Engineering
LICENSES
Professional Civil Engineer in California
FAVORITE QUOTE
"Do or do not, there is no try." -Yoda
Peter Quinlan, RG
Vice President, Hydrogeology Services
I like solving mysteries. Uncertainty is inherent in working with groundwater; there is always much more that we do not know about the subsurface than we do know. The trick is to remain flexible in our thinking to understand what new data have to tell us. Generally, there are no anomalous data, only data that do not fit our preconceived notions. Conceptual models are meant to evolve with new data.
Curious people can find any problem interesting. If you give them a light rein while working on the problem, they come up with a good solution. As my old foreman used to say, "Pete, do you know why I like to hit myself on the head with a hammer so much? Because it feels so good when I stop." Taking a step back and looking at the problem from a different angle might reveal a better way to do things.
YEARS WITH DUDEK
25
YEARS IN INDUSTRY
35
FOCUS
Client Satisfaction
Groundwater Supply and Development
Numerical modeling
Remedial Design and Implementation
EDUCATION
University of Arizona
MS, Hydrology
BA, Arabic, Middle Eastern Studies
LICENSES
Registered Geologist in Arizona
FAVORITE PASTIME
I love being outdoors, especially riding my horse over hills with my dog running alongside.
Kevin DiSabatino
President, Habitat Restoration Sciences Inc., A Dudek Company
We have the privilege to construct native habitat for our clients' projects that may have spent years in the permitting, design, and funding stages, and we specialize in navigating the regulatory agency compliance process while building successful projects.
Our projects take us from saltwater marshes and coastal dunes to Sierra intermountain streams to desert dunes and habitats. Being a part of a team of expert tradesmen, engineers, biologists, architects and regulatory experts that can utilize our large fleet of specialized low-ground pressure equipment allows us to successfully construct diverse native habitat in California and the Western United States.
We are driven by our mission statement: "Redefining mitigation to better serve our clients and nature". Our focus is on establishing long-term collaborative relationships with our clients while successfully achieving cost-effective regulatory agency sign-off criteria. Helping our clients be successful is directly linked with HRS' success in being a zero-debt, employee-owned, design-build general engineering construction firm.
YEARS WITH HRS
13
YEARS IN INDUSTRY
18
FOCUS
Client Satisfaction
Problem Solving
Native Habitat Restoration
Employee Training and Mentoring
Equipment Operation
CERTIFICATIONS
Licensed General Engineering Contractor A
Licensed Landscape Contractor C-27
California Pest Control Applicator License
FAVORITE PASTIME
When I'm not hiking and exploring California with my wife, you can find me rock crawling. I enjoy the challenge of finding my way through a trail with car-sized boulders while not breaking anything or ending up upside-down.